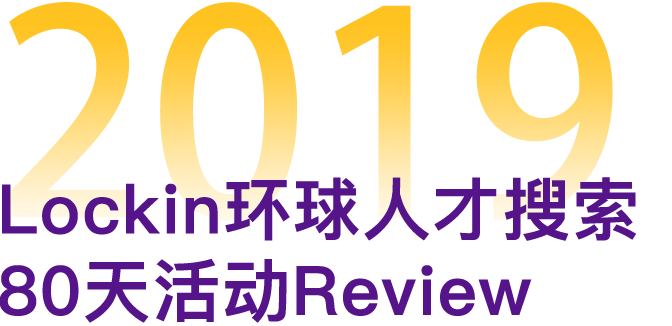 The 5th Lockin 80 Days Event for Global Young Talents (2019) has successfully ended. During the past five years, Lockin cooperated with more than 1,500 global universities; helped hundreds of thousands of young talents seek job opportunities before returning to their home countries; and our 80 Days Event for Global Young Talents has also become the largest on-campus recruitment event. This year, Lockin team landed in UK, France, Spain, US, Australia and other countries, brought high-quality positions and offline pre-employment workshops to overseas talents.
Compared with the 80 Days Events in previous years, this year's 80 Days Event has upgraded to a more global version. By providing over 100 customized on-campus workshops and 60,000+ positions from various countries, we have offered better job-seeking experiences to fresh graduates all over the world.
Except for delivering the overview of Chinese labor market; recruiting procedure in China; resume writing skills and interview skills to our Chinese students, this year Lockin also brought international workshops to all international students. Especially, students from India, Japan, South Korea, Malaysia and Singapore, were able to learn more job-seeking knowledge in their home countries and raise success rate in job-seeking.
Cooperating with global labor markets also showcases the globalization of Lockin. With more than 60,000 positions from various countries, students who want to develop career paths in countries like India, Japan, South Korea, Malaysia and Singapore are all able to apply for jobs and seek global development via Lockin.
This year, we have received warmly welcome from all international students and the staff in career services from global universities. Here below are some important facts of 2019 80 Days Event.
2019年第五季Lockin环球人才搜索80天活动已经完美收官,五年来,作为联合全球1500余所高校举办的全球最大的校园招聘活动,Lockin已帮助无数海归在回国前便顺利开启职业发展之路。今年,Lockin团队走进英国欧洲、澳洲和北美等地的多家高校,为海归留学生们带来优质线上职位投递及全球线下校园求职workshop。 与往年相比,今年环球人才搜索80天活动最大的升级在于Lockin平台更加全球化, 通过更有针对性主题的100多场校园求职workshop和多个国家的6万多个职位机会,让应届生人群在全球范围内获得更好的求职体验。
除了拥有帮助中国留学生剖析当今国内求职市场、国内校招流程,传授简历写作技巧和面试知识的中文版本workshop,Lockin还为国际学生带来了针对国际求职市场,尤其是印度、日本、韩国、马来西亚、新加坡等国的国际版求职wokshop,帮助他们学习国际通用的求职知识、目标求职国家的职业发展特点等,让大家的求职准备更加有针对性,成功率更高。
Lockin全球化的另一重要方面体现在与全球的招聘市场达成深度合作。全球各地的应届生都可以通过Lockin申请来自全球多国的6万多个职位,让意向在日本、印度、韩国、马来西亚、新加坡等国进行职业发展的留学生拥有了全球化的发展机会。
所以今年更加国际化的环球人才搜索80天活动,受到了所到院校的中国留学生、外籍留学生及大学Career Service老师们的热烈欢迎。接下来我们一起通过一组数字回顾一下今年Lockin环球人才搜索80天活动的一些成果。